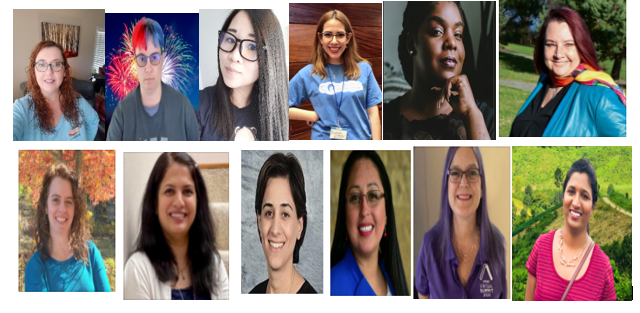 Join 12 amazing women – Rie Merritt, Tracy Boggiano, Julie Koesmarno, Barbara Valdez, DeNisha Malone, Cindy Gross,Gilda Alvarez, Deepthi Goguri, Deborah Melkin, Shabnam Watson, Shreya Verma-Kale and Leslie Andrews as they talk about tech, social and professional growth.
We are proud to announce the first day long event for 2021 – Data Platform WIT Day – March 5th 2021. This will be a day long virtual event with all women speakers – some on non tech issues and some on hard core tech topics.
We will start the day at 8.30 AM EST with a keynote by former WIT lead and current Senior program manager for MVP Support at Microsoft – Rie Merrit (t | l).
This will be followed by various sessions as below. We worked hard to make the speaker selection diverse ethnically, and find a balance between tech and non tech subjects. It is our first event so this will evolve in the future. Please sign up for our event here – you will be emailed zoom links for the classes closer to date.
Time in EST
Speaker-Bio
Topic-Abstract
8.30 – 9 AM
Rie Merritt lives with her family just north of Atlanta, Georgia. She is currently Sr Program Manager, MVP & Community, Database Engineering with Microsoft. She's been a SQL Server DBA for over 20 years in various industries: financial, pharmaceutical, eDiscovery, online commerce, government contracting and non-profits. She helps run local tech conferences and user groups, is a strong advocate for Diversity & Inclusion in Tech and speaks frequently on Women in Tech topics at events around the world.
KeyNote – "Lifting as we climb"– I will talk about all the different ways women & allies can help women in tech. Actionable behavior that they can apply immediately and long term: mentorship, sponsorship, amplification, key phrases and inviting someone to the table.
9:15-10:15 AM
Tracy Boggiano is currently a Data Platform MVP, PASSion 2020 Award winner, and works as a Senior Database Administrator for DocuSign. Tracy has worked on SQL Server since 6.5. She has spoken at numerous local user groups and SQLSaturdays, virtual groups, Data Relay, and Summit. She is currently a co-leader of the Triangle SQL Server User Group in Raleigh, NC. Tracy tinkered with databases in middle school to keep her sports card collection organized and got an early start on databases.

Her passion outside of SQL Server is volunteering by advocating for abused and neglected foster children in court through the North Carolina Guardian ad Litem program. This is her favorite and most important job. She has been an Guardian ad Litem for 18+ years and advocated for over 50+ children. As someone who experienced mental health issues she has for the past two years started being a mental health advocate by being a part of the PAIMI (Protection and Advocacy of Individuals with Mental Illnesses) Advisory Council with the DRNC (Disability Rights of North Carolina).
SQLServer Configuration with dbatools and dbachecks – Automating the configuration of SQL Server instances and being able to check the configuration for standard configuration is an important role for any DBA when you have lots of instances. But how can we automate the configuration easily? How can we check to make sure the proper configuration is in place and hasn't changed?

In this session, we will look at how to configure your SQL Server Instances using PowerShell and the dbatools module. Then we will look at how to use dbachecks to confirm the configuration of our instances and how to check for changes in the future of the configuration. Attendees will see how easy it is to use PowerShell via dbatools to configure their SQL Server instances.

Attendees will see how easy it is to use PowerShell via dbachecks and PowerBI to see if their servers are configured properly. Attendees will be given a set of scripts that take back to use to configure and test the configuration of their SQL Server instances.
10:30-11:30 AM
Bios as below
Panel Discussion on Mentoring – No one gets to where they are without help from others. Maybe that support came from a teacher, colleague, or someone from the community. There are "official" mentoring relationships but also more casual ones that make a difference in our careers and life.
In this session, our panel will discuss how being mentored or being a mentor impacted their careers.
11:45-12:45 PM
Julie Koesmarno is a Principal Program Manager at Microsoft, for the SQL Tools and Experiences team. She has worked in Data Management, Data Warehouse and Big Data Analytics solutions both on-premises and cloud over the past decade. She's currently working on Azure Data Studio improvements for modern data professionals. She is a regular speaker for user groups and conferences such as SQL Saturdays, PASS Summit and SQL Bits. She is a co-author of SQL Server 2017 Machine Learning Services with R.
Barbara Valdez is a Software Engineer at Microsoft working for SQL Tools and Experiences on Azure Data Studio.
In her two years at Microsoft, she has worked on Azure Kubernetes service migration and on data ingestion pipelines for Incident Detection services.
She is currently working on the ""Notebooks" Team and specializes on integrating Jupyter Books to Azure Data Studio."
Notebooks 101 for SQL People – Are you a database developer, a DBA or a data analyst? Do you find spending quite a bit of time trying to reproduce analysis or reproduce issues and the troubleshooting techniques? This Notebooks 101 session is for you!

The lack of rigor in being able to reproduce analysis in business context or to reproduce data troubleshooting can lead to confusion and time wasted on work that had been previously done. With Notebooks, Data Professionals can share their techniques and data sources used for the data analysis or troubleshooting for code review and reproducible insights/troubleshooting.

Azure Data Studio Notebooks support SQL and KQL natively with intellisense; with easy to use charting capabilities. With Notebooks and Jupyter Book (collection of Notebooks) in Azure Data Studio, it's also easy now for your team to build an onboarding guide (user manual) / documentation on data sources, useful sample scripts and tutorials.
1:00-2:00 PM
DeNisha Malone is a Business Intelligence Solutions Architect who works with Microsoft, Google, and Amazon data customers. She consults in the use and administration of their BI Reporting tools in enterprise level environments.
In 2015, she started her journey as the Power BI Queen, helping developers and users around the world feel more comfortable in Power BI. With the self-service of reporting on the rise, DeNisha takes advantage of the opportunity to teach others, as she travels to speak at conferences and events. She dedicates her lessons to BI best practices, Development Tips and Tricks, Data Storytelling, and Power BI Administration.
She holds a Bachelors in Business Information Technology from the University of Memphis, focusing in Advanced Analytics and Business Management.

Use Powershell Commands for Power BI Administration – Power BI has made its mark in the world as the leading business intelligence application for personal, business, and enterprise benefit. As the tool spreads from business to business, the ability to automate administration processes has become an important skill. In this session, attendees will learn ways to use cmdlets in Windows Powershell to administer the Power BI Service tenant. DeNisha will also demo how to call a Power BI Rest-API and produce a CSV file in your local drive with results..
2:15-3:15 PM
Shreya Verma is a Program Manager on the SQL Server team. She has over 15 years of experience in the database industry, working on both SQL and NoSQL products. As a Program Manager in the SQL Server team, Shreya focusses on graph data processing capabilities and database backups. Prior to this, Shreya has worked on Amazon DynamoDB and ANTs Data Server products.
Generate intelligent insights from your data using Graph features in Azure SQL – Graphs can be used to represent complex real-world scenarios and Azure SQL Database provides you a fully managed graph database service to host your data on the same trusted and secure platform. In this session we will look at some real world scenarios and demonstrate how you can query your data using node and edge tables and simple MATCH queries. We will also look at some examples of how advanced graph algorithms can be used to analyze data.
3:30-4:30 PM
Cindy Gross is an ex-techie Generative Coach, Adaptive Community Leader, & founder of Befriending Dragons. She nurtures equitable anti-bullying, anti-racist cultures via coaching partnerships with tech leaders on their own personal culture change journeys. Our internal DRAGONS make us small, but we can BEFRIEND them. We can regain our voices. We can heal. We can make tech stronger, better, more innovative. Cindy leads and coaches with empathy and an intersectional social equity perspective so you can unleash the change and impact you want to have in the world.
Stepping Stones from Diversity Learning to Equitable Actions – We are in the middle of an awakening, a disruption and reforming of norms, values, and expectations. Many organizations and individuals are rethinking how we show up in the world, how we see ourselves, our communities, and our organizations. It can be overwhelming to the point of inaction. We attend anti-racism trainings and book clubs, we commit to a couple of takeaways, and then…. we move on to other priorities. There's a gap between knowing we want to create change and actually acting to create that change in ourselves, our communities, and our tech workplaces. Let's talk about how to move forward, nurture positive, intersectional change, and continue the momentum of #MeToo and #BlackLivesMatter. Let's each take the next right step forward within our scopes of control to nurture more equitable anti-bullying cultures.
Panelist Bios
Gilda Alvarez has 20 years of experience in Enterprise Information Technology for several Fortune 500 companies.She specialize in database administration, database security, implementation, optimization with an emphasis on high availability, business continuity, and data governance. She is a big advocate of technical and leadership education in the community. I founded Latinas in data as a technical mentoring program that is trying to bridge the gap of IT database technical skills in the Latino community. She strongly believes that "Diversity is getting invited to the party, Inclusion is getting asked to dance and equality is being in the party planning committee".

Shabnam Watson is a Business Intelligence consultant and Microsoft Data Platform MVP with 20 years of experience developing Data Warehouse and Business Intelligence solutions. She has worked across several industries including Supply Chain, Finance, Retail, Insurance, and Health Care. Her areas of interest include Power BI, Analysis Services, Performance Tuning, PowerShell, DevOps, Azure, Natural Language Processing, and AI. Her work focus within the Microsoft BI Stack has been on Analysis Services and Power BI. She is a regular speaker and volunteer at national and local user groups and conferences. She holds a bachelor's degree in Computer Engineering, a master's degree in Computer Science, and a Certified Business Intelligence Professional (CBIP) certification by The Data Warehouse Institute (TDWI).

Deepthi Goguri is a Database administrator with 7 years of experience.She completed her Masters in Computer Technology at Eastern Illinois University and she is a Microsoft certified solution expert (MCSE). You can find her blog at dbanuggets.com.

Deborah Melkin has been working as a database professional with SQL Server for over 20 years. She spends her days helping programmers with all aspects of database design, queries, performance, and deployment. In 2016, she began her blog, Deb the DBA. Soon after that, she began speaking at SQL Saturdays and user groups. Deborah is a board member of the New England SQL Server User group (NESQL) and was recently named as an IDERA ACE Class of 2020. She also won Speaker Idol at PASS Summit 2019. Deborah is also a recently awarded Microsoft MVP for the Data Platform.

Leslie Andrews is a Senior Consultant with 3 Cloud Solutions (formerly Pragmatic Works Consulting), an Azure Certified Data Engineer, and was a 2018-2019 Idera ACE. She obtained her BBA with an MIS concentration from the Anderson School of Management at the University of New Mexico and worked in the public sector for 15 years developing applications, databases, and ETL processes. She enjoys spending time with her family, travelling, climbing, kettlebells, and reading epic fantasy; she is active in the SQL community, and on the Governing Board of a Charter School.